Product Description
Robotic / Automatic Welding Wire Cutter
TBI Part Number 531P101055
PDA-92 - WC-95E - SWC-62
650-25-096 Robotic
Welding Wire Cutter
Trims Welding Wire - Improves Arc Starts
SWC-62 / WC-95E / PDA 92 / WC-94 / WC-95
Used on AEWI, CM Industries Kool Run,
American Weld Quip, Dinse, TBi and
ESAB / TBI # 531P101055.
Wire Cutter Connection
and Operation:
Mount the wire cutter to the cleaning station or to a remote

location.

Provide an air supply (80-120 psi) to the electronic air control valve (ACV)

Program the robot to align the nozzle/welding wire to the cutter

blades.

Program the robot to activate the ACV for 0.5 sec. when torch is

aligned.
Pneumatic wire cutter cuts welding wire sizes .023" (0.6 mm) to 1/16" (.062", 1.6 mm) diameter.
This welding wire cutter may be used as a
stand-alone
item,
or it can be mounted
directly
to the "Sentry" Torch Guard or other cleaning station.
A programmed path brings the Robotic welding torch to the cutter jaw.
Using a controller output signal the pneumatic device will shear the protruding welding wire
leaving a clean-cut edge and a consistent stick-out length. Clean cut welding wire promotes
better arc starts and is necessary for seam tracking systems.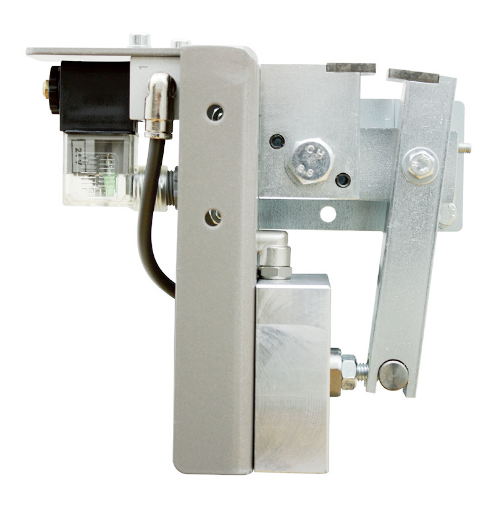 Product Videos
Custom Field
Product Reviews