Product Description
R2200V Water Cooler

15 Gallon Tank
30,000 BTU
Circulator 115/230v. 1ph. 50/60hz.
Great for Robotic Welding Applications
"FREE SHIPPING" to 48 States
Another Great Product - "Made in the USA"
Mig or Tig Welding up to 1000 amps.
Plasma Welders to 300 amps
Spot Welder / Resistance welders to 150 KVA
Induction welders to 10 KVA
Industrial & Scientific to 30,000 btu.
R2200V Specifications:
Stainless Steel construction
Quiet running vane pump
4.0 gpm @50 psi. adjustable to 100 psi
15-gallon coolant tank

High-capacity radiator
115 or 230 VAC / 1 ph. 50/60 Hz
8.2 / 4.1 amp: 60 Hz
30,000 BTU Capacity
Dimensions: 23"L x 16"W x 25.5"H
1/2" FPT fittings-water in and out
8-foot power cord
Visible water level and water flow sight glass
Net Weight (dry) 70 lbs.
IMPORTANT TIP:
Only use approved coolants in liquid cooled Tig torches and
Mig guns to avoid damage to pumps, radiators, cables and hoses.
Approved coolants are less electrically conductive, will not calcify
and provide proper lubrication for pump parts.
R2200V Dynaflux Water Cooler Coolant Circulator is made in the USA

.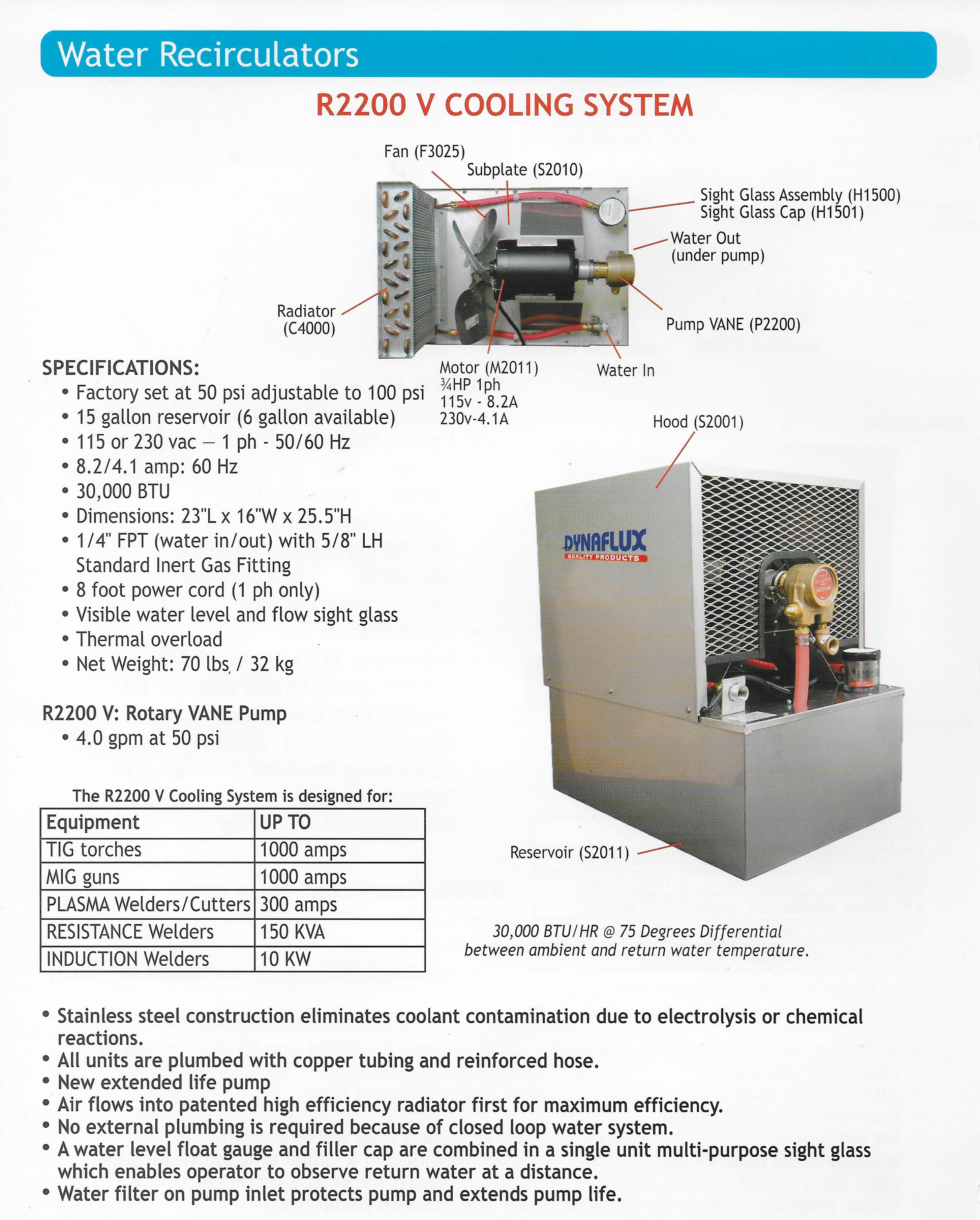 R2200v with 6 Gallon Tank available at:
R2200V Dynaflux Welding Water Cooler 115/230V. 30,000 BTU 6 Gal "Free Shipping"
Need a connection kit?
Water Cooler Hook Up Kit HK-1 12.5' (ae-welding-industrial.com)
Product Videos
Custom Field
Product Reviews