Product Description
CUTKITHD510 Norstar N3145510
Cutting, Welding & Heating Outfit
Victor Style w/CGA 510 Gas Regulator
Cuts Steel to 8"- Welds Steel to 1/2"
This is the perfect torch for any shop or the back of any fabricators truck.
It takes Victor style
tips,
so you don't have to worry about not being able to
get tips from your Local Welding Supply store when you need to.
Great Value Alert: This torch outfit comes with 3 welding nozzles!
That's more welding nozzles than any other brand
and it comes at a lower price.
Complete Heavy Duty Cutting, Welding & Heating Outfit Victor Style
Cuts up to 8" steel, welds up to ½" steel with correct tip sizes.
Welding & Cutting Kit-V style heavy duty CGA 540/510
Regulator: V350-OX & V350-AC
Torch Handle: V315
Cutting attachment: V2450
Cutting tip: 1-1-101
Welding tip: W-2
Check valves, goggles, tip cleaner, spark lighter
15 ft. 1/4" hose w/ fittings
Stainless Steel toolbox packaging
90-day warranty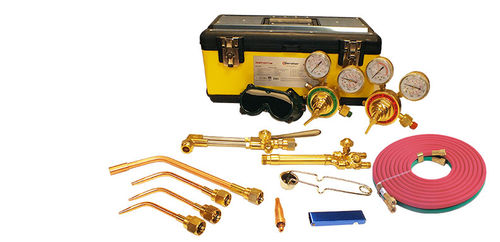 Product Videos
Custom Field
Product Reviews