HP100SC B&B 1001 Oxygen Purge Monitor
HP100SC B&B 1001 Oxygen Purge Monitor
Your Price:
$433.95
(You save

$61.05

)
Rating:
(

1

product review )
Shipping:
Calculated at checkout
---
Product Description
PPM HP100SC / Tag 100 /
B&B 1001
Oxygen Welding Purge Monitor
The Kit Consists of
Pipe Purge Masters
Handy Oxygen Purge Monitor
3 ft / 1 m Hose with Flow Adapter
Stainless Steel Probe
Vacuum Hand Pump
Plastic Carry Case
Instructions
Oxygen Purge Monitor HP100SC / B&B 1001 lets the welder know the correct
time to start welding.
Reduces waiting time, gas consumption and
ensures perfect oxide free welds.


The Handy Purge 1001 may be factory calibrated at minimal cost and
is re-certified for 1 year.
The Oxygen sensor (Part # BB 1001-SENSOR) is replaceable.
For continuous monitoring during welding connect one end of the
rubber hose to the sensor adapter and leave the other outside the
purging area to let the residual oxygen flow away from the welding area.

For taking samples connect the short wire with the stainless-steel probe
to the sensor adapter. The probe then measures the residual oxygen
concentration in the purging/welding area.
Connect a vacuum hand pump to the sensor adapter and squeeze it
a couple of times to let a sample of the gas flow to the sensor.
Measuring Range: 0,01% - 20,9% Oxygen (O2) (100 ppm - 209000 ppm)
Accuracy: at 20% +/- 0,2% at 2% +/- 0,02%
Power Source Battery Type PP3 9 vdc.
The LCD is 1/2 inch high, big enough to identify the displayed values easily
from a distance of a few feet. As soon as the residual oxygen concentration
is down to the required minimum, you may start the welding process.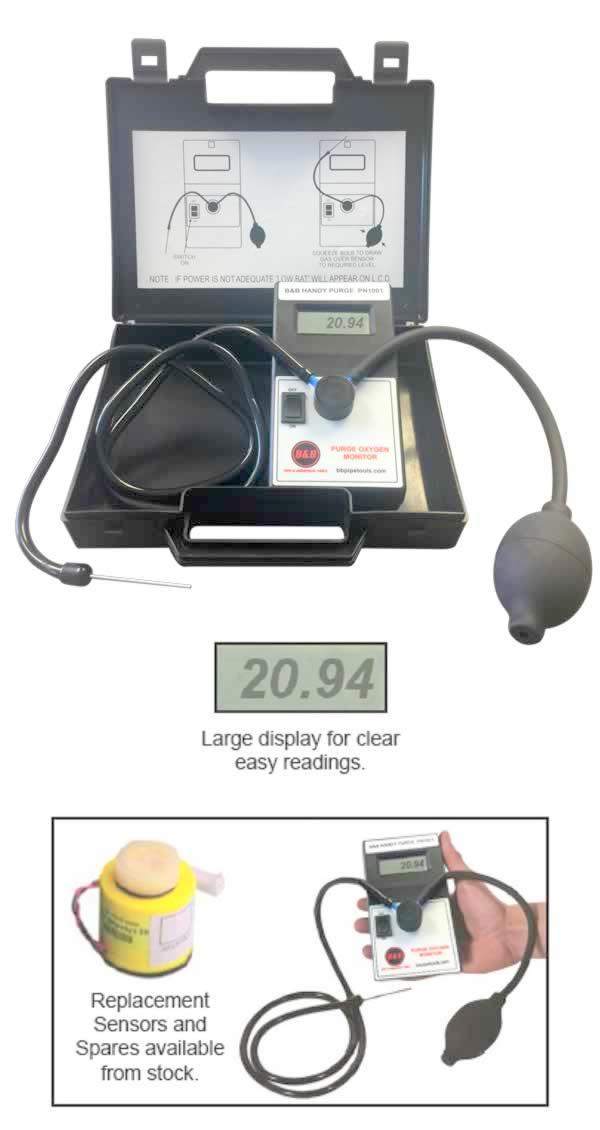 Find Similar Products by Category
Product Reviews
Customers Who Viewed This Product Also Viewed