Product Description
CK MasterTIG 375 Amp AC/DC Water-Cooled
TIG Welding System with Water Cooler with Cart
The MT375-AC/DC is the newest CK machine providing durability and productivity.
Customers have been asking us for a larger more powerful machine with greater capabilities
.
The new 375 ac/cd delivers. The 375-amp AC/DC dual voltage machine is equipped with a
Dual Pump water cooler, Wheeled Cart, Heavy duty 350-amp TL18 torch with Super-Flex™ cables,
the new Steady-Grip™ Foot Pedal, and all of the essentials to start welding upon arrival.
Add the tank and gas.

Built for Welding Professionals!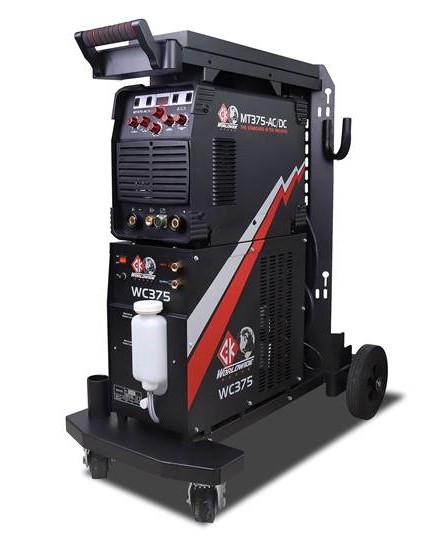 ---
CK Worldwide® MT375 AC/DC TIG Welding Setup
New CK MT375-AC/DC dual voltage TIG Welding machine engineered to deliver.
the highest quality welding productivity. Built to be durable and loaded with
advanced capabilities to weld a variety of materials including exotic alloys.
CK MT375 amp AC/DC dual voltage workhorse is equipped with a heavy-duty
dual pump water cooler, robust cart, and compact and powerful Trim Line TIG torch
with Super-Flex™ cables, and Steady-Grip™ Foot Pedal.
Everything you need to Weld-Like-A-Pro.
High-performance dual voltage inverter for 230V & 460V
Two dynamic welding modes: GTAW (TIG) and SMAW (Stick)
Easy-to-use interface allows quick setting adjustments.
Fully equipped with a dual pump water cooler & utility cart
NEW Patented Steady-Grip™ foot pedal quickly converts to fingertip amperage control.
Front end parts starter kit.Stubby Gas Lens Kits shrink your TIG torches front-end part size.
for better puddle control and access to tight spaces.
Product Videos
Custom Field
Product Reviews