Product Description
6100 Tri
Standpipe
Chain Vice
B&B 6100 Tri
Standpipe
Chain Vise has a cast aluminum head
that balances lightweight and durability. There is a heavy duty
tightening device with a replaceable jaw and folding legs with a
chain lock. The Tri
Standpipe
Chain Vice has up to a 6 inch pipe capacity.
NOTE: Shipping charges will not calculate on the checkout page
i
f your order exceeds 150 lbs.
In this event contact us
(847-962-6289) for shipping costs.\
Shipping Note.
Because of the size and nature of this item, it may have to ship

by common carrier. Expedited shipping may not be available.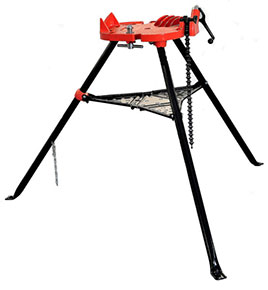 Product Videos
Custom Field
Product Reviews