Forney 291 Easy Weld 180 ST Stick Welder 115-120/230-240 Volt
Forney 291 Easy Weld 180 ST Stick Welder 115-120/230-240 Volt
Shipping:
Calculated at checkout
---
Product Description
Forney Easy Weld 180 ST 120/230 Volt
Dual-voltage 120/230-volt options ensure the right power is used for the job.
With 180 amps, you can weld up to 1/2" mild steel!
Item #: 291
UPC #: 032277002913
$339.99 (Suggested retail)
The Forney Easy Weld 180 ST stick machine is dual-voltage, lightweight, easy to use and generator friendly. Applications include do-it-yourself, maintenance and repair and hobbyist. Perfect for beginner welders. Includes 8' electrode holder and cable, 8' ground clamp and cable, 230 to 120 volt adaptor and 6' power cord.
Product Specifications:
Unit Dimensions: 11" x 6-5/16" x 14-1/8"
Display Box Dimensions: 12-1/4" x 9-3/4" x 17"
Unit Weight: 14 lbs.
Display Box Weight: 19.59 lbs.
Welding Processes: DC Stick/TIG
Not recommended for aluminum welding
Input Power: 1 Ph-50/60Hz
Welds up to 1/2" of mild steel
120/230 multi-voltage power
Lift start TIG only (no foot pedal operation)
TIG torch sold separately
Amperage Range: 10-90 amps for 120 volt; 10-180 amps for 230 volt
Duty Cycle: 80 amp @ 30% for 120 volt; 180 amp @ 25% 230 volt
Recommended Electrodes (Performance May Vary by Brand):
E6010 and E6011: 3/32" (2.38 millimeters) @ 30-75 amps; 1/8" (3.18 millimeters) @ 35-120 amps; 5/32" (3.97 millimeters) @ 80-160 amps
E6013: 1/16" (1.59 millimeters) @ 20-50 amps, 3/32" (2.38 millimeters) @ 40-90 amps; 1/8" (3.18 millimeters) @ 50-130 amps; 5/32" (3.97 millimeters) @ 90-180 amps
E7014: 3/32" (2.38 millimeters) @ 40-90 amps; 1/8" (3.18 millimeters) @ 60-130 amps; 5/32" (3.97 millimeters) @ 90-180 amps
E7018: 3/32" (2.38 millimeters) @ 50-100 amps; 1/8" (3.18 millimeters) @ 80-160 amps; 5/32" (3.97 millimeters) @ 90-180 amps
Recommended Accessories and Consumables:
150 amp TIG Torch: 85659

Argon/CO2 Flowmeter: 85364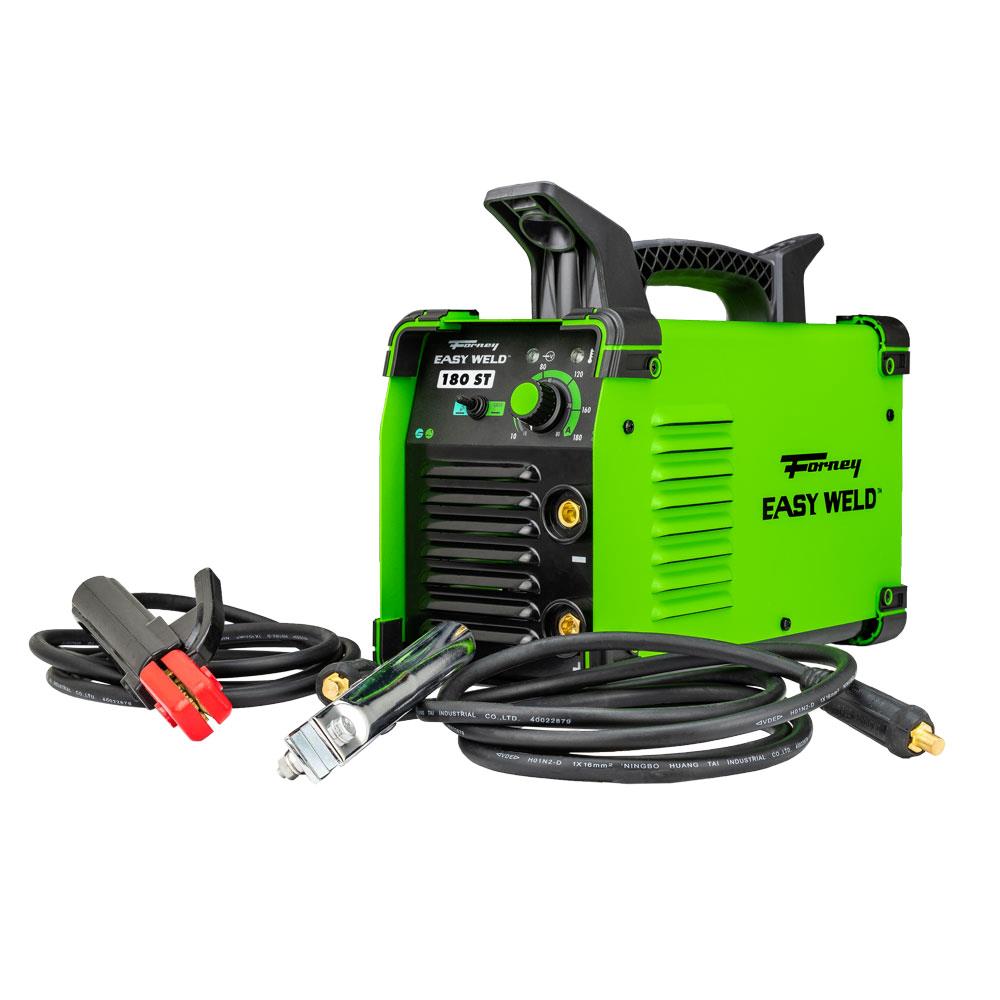 Find Similar Products by Category
Customers Who Viewed This Product Also Viewed