Forney 220 ACDC Stick Tig Welder with Tig Torch and Foot Pedal 115/230V "Rebate Available"
Product Description
Forney® #420 220ACDC Tig Welder
with 17-series Tig torch and Foot Pedal 115/230V
This machine is eligible for a $75.00 GREENBACK™ rebate!
AC/DC TIG welder.
Features 120V/240V input power, 220 AMPs of welding power.
This machine is great for many applications including
simple metal art projects and professional repairs.
The #420 Forney 220ACDC Stick and TIG Welder is built with the professional in mind.
Ideal for experienced metalworkers, the stick and TIG welder was designed with a low
starting amperage of 5 amps, and features pulse controls that allow the operator to
regulate welds on thin material.
Included Accessories:
12.5' (3.81 m) 150 AMP 17 Series TIG Torch with Flexible Neck
12.5' (3.81 m) 7 Pin Foot Pedal
15' (4.57 m) Ground Clamp with Cable
15' (4.57 m) Electrode Holder with Cable
15' (4.57 m) Input Power Cable
Flowmeter with Hose
Features:
Stable Arc at 5 AMPs
Pulse Welding
High Frequency Starts
Ability to Turn Off High Frequency
TIG Torch/Foot Pedal Combination
Dual-Voltage
Digital Gauges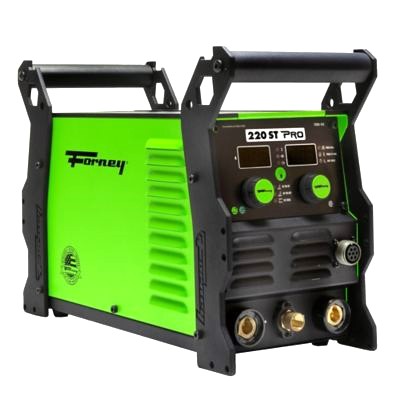 Recommended Accessories and Consumables:

ITEM #85660 Tig Hand Control for Forney 220ST
Forney PRO-Grip 17F Fingertip Amptrol TIG Torch, 12.5' with Kit (ae-welding-industrial.com)
Claim your Greenback Rebates directly from Forney®
Warranty Information
3 Year Manufacturer's Warranty on PCB and Controls.
Find Similar Products by Category
Customers Who Viewed This Product Also Viewed