Forney 220 ACDC Stick Tig Welder with Amptrol Tig torch 115/230V "Rebate Available"
Product Description
Forney® 220 ACDC Tig Welder
with Amptrol Tig torch 115/230V
This machine is eligible for a $200.00 GREENBACK™ rebate! AC/DC TIG welder.
Features 120V/240V input power and 220 AMPs of welding power.
This machine is great for many applications including simple metal
art projects and professional repairs.
The Forney 220 ACDC Stick and TIG Welder is built with the professional in mind.
Ideal for experienced metalworkers, the stick and TIG welder was designed with a low
starting amperage of 5 amps, and features pulse controls that allow the operator to
regulate welds on thin material.
Included Accessories:
12.5' (3.81 m) 150 AMP 17 Series Amptrol TIG Torch
15' (4.57 m) Ground Clamp with Cable
15' (4.57 m) Electrode Holder with Cable
15' (4.57 m) Input Power Cable
Flowmeter with Hose
Features:
Stable Arc at 5 AMPs
Pulse Welding
High Frequency Starts
Ability to Turn Off High Frequency
TIG Torch w/Amptrol
Dual-Voltage
Digital Gauges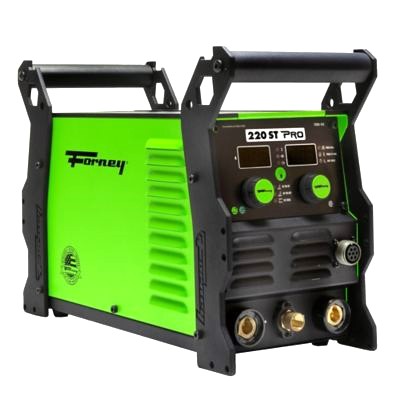 Recommended Accessories and Consumables:
ITEM# 85655 - TIG Foot Pedal, 25' (7.6M) 7 Pin
Foot Control 85655 Tig for Forney (ae-welding-industrial.com)
Claim your Greenback Rebates directly from Forney®
Email: customerservice@forneyind.com
Warranty Information
3 Year Manufacturer's Warranty on PCB and Controls.
Find Similar Products by Category
Customers Who Viewed This Product Also Viewed