DGP-PG2-A-V2 Piranha Tungsten Grinder with Vacuum Cabinet
DGP-PG2-A-V2 Piranha Tungsten Grinder with Vacuum Cabinet
DGP-PG2-A-V2 Piranha Tungsten Grinder with Vacuum Cabinet
Your Price:
$1,739.95
(You save

$130.05

)
Shipping:
Calculated at checkout
---
Product Description
Piranha DGP-PG2-A-V2 Tungsten Grinder
Tungsten Electrode Sharpening
Enclosed Grinding Area
100% Dust Containment for Safe Disposal
DGP-PG2-A-V2 Piranha 2-A Tungsten Grinder with Vacuum Cabinet
can improve welding productivity by correctly and consistently sharpening
Tungsten Electrodes longitudinally, in less than 30 seconds.

Includes Vacuum system, foam insulated cabinet and flexible spotlight.

NEW FEATURES:

Lighter weight Aluminum Body

Enclosed Grinding Area

Sliding Dust Shield - Dust Containment

Recessed Handle

Lighted Control Switch

Integrated Receptacle for Handling Electrodes

Included Angle Range 10-60 Deg.

Sharpens Tungsten as short as 1-3/4"

Sharpens 3/4" Tungsten with Optional "Short Collet Kit".
Includes a collet for sharpening Tungsten sizes .040" - 3/32" (1.0 - 2.4mm)
Available with:

150 coarse grit grinding wheel

300 medium grit grinding wheel (standard)

600 fine grit grinding wheel
Piranha Tungsten electrode grinder, sharpener DGP-PG-2A-V2
is designed for shops with 1-3 Tig welders.
DGP-PG-2-A-V2 Piranha II Tungsten Grinder
NOTE: Ships Ground Freight Only: Call 847-962-6289 for freight quote.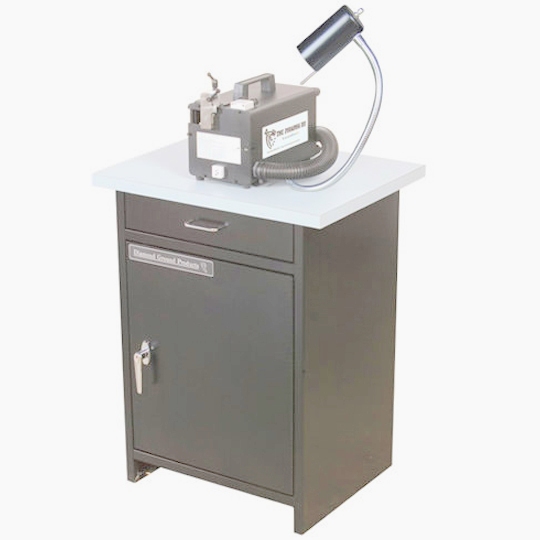 Find Similar Products by Category
Customers Who Viewed This Product Also Viewed